Richard Smythe mezzotinter
This site displays a regrettably incomplete collection of mezzotints, engravings and portraits produced by my grandfather,
Richard Smythe, né Smith,  1863-1934, and inherited or acquired by me.
They are now in the Richmond Borough Art Collection, Orleans House Gallery, Riverside, Twickenham TW1 3DJ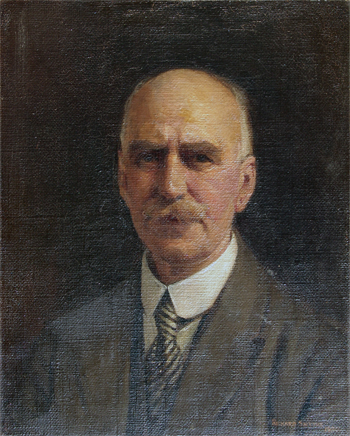 Richard Smythe. Self portrait, 1930.
Richard Smith, later Richard Smythe, was born in Cromford, Derbyshire, on 13 February 1863, the fourth son and eighth and last child of William Smith, M. Inst. C.E. (1826-1911), who worked at Buxton for the Duke of Devonshire under the supervision of Sir Joseph Paxton, 1851-57, was Secretary to the Cromford & High Peak Railway Company 1857-1867, and later Divisional Engineer of the Crewe and Holyhead divisions of the London & North Western Railway Company, during which time he supervised the building of the Summit Level Tunnel of the Bettws and Festiniog Railway (the longest single track tunnel in the UK) 1873-79, and Martha Smith (c.1826-1882), née Bowker. Both William and Martha were children of Preston (Lancashire) innkeepers.
Having studied at the Manchester School of Art, Richard exhibited under the name of Richard Smythe at the Royal Academy (in 1888) and at the Berlin Academy.  When he married Ada King on 20 June 1896, at St Stephen's Church, Hampstead, he registered under the surname Smythe, and incorrectly also gave that as his father's surname. He had two children, my father Cyril Richard (1899-1984), and Dennis Bernard (1907-1968).
His recreations were listed as music, boxing, swimming, and motoring. He was an amateur violinist, and also had an inventive streak. I was told he came up with the idea of a rubber at the end of a pencil, and gave it away to a friend to patent. He also invented a security device against bicycle theft that was designed to shoot the would-be thief in the leg if it was ridden off without being deactivated.
An article, 'Colour Prints. The Modern Revival', in The Times of 14 June 1912  referred to him as 'one of the most accomplished of present-day mezzotinters'. In 1914 he executed 'By Royal Command' a mezzotint of Sir John Lavery's 'The Royal Group' (of King George V, Queen Mary, the Prince of Wales and the Princess Royal), which was published by Agnew's. He died on 11 December 1934 at his home in Hampton Hill, Middlesex.

Unfortunately whatever list of his works he may have kept was not passed to me by my uncle Dennis, who gave away what pictures he had – and perhaps such a list – to friends before his death, but this site provides photographs of Richard Smythe mezzotints known to me, listed by the artist of the original work below, and all together in the Gallery, over each of which one can use the curser to obtain the basic details about that picture: